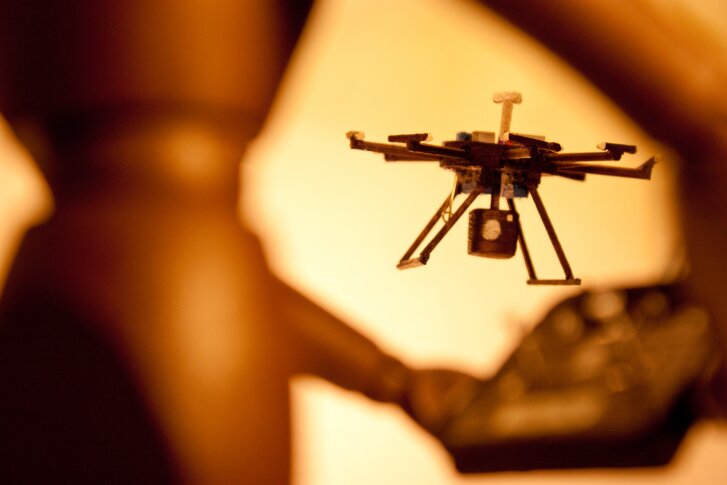 On Wednesday, the Transportation, Housing and Urban Development Subcommittee of the U.S. Senate Appropriations Committee held a hearing on unmanned aircraft systems (UAS) integration. The meeting focused on the need for additional safety measures as the FAA proceeds to integrate the technology into national airspace.
Testifying were Marty Rogers, the deputy director of the Alliance for System Safety of UAS through Research Excellence (ASSURE), a consortium led by Mississippi State University; Michael Huerta, administrator of the Federal Aviation Administration (FAA); and Capt. Tim Canoll, president of the Air Line Pilots Association International (ALPA).
The hearing was chaired by U.S. Sen. Susan Collins, R-Maine. In her opening statement, Collins underscored that even though UAS can provide myriad benefits, maintaining safety in the air, as well as on the ground, has to be priority No. 1.
She asked Canoll, who brought with him a DJI Phantom, about a pilot's perspective on spotting a drone from his airplane.
"This is an extremely difficult thing to see, even at close range," he responded, showing the size of the drone's lithium battery. "When we hit one of these things, it is going to be a significant event for the crew to safely land the aircraft."
Huerta, referencing the proliferation of reports from pilots who have said they spotted drones while flying, said, "These incidents make it clear we must work harder to ensure a strong culture of safety and responsibility. There is no single solution to the question of how we do that. The safe integration of unmanned aircraft is multi-faceted, and our approach must be as nimble as the technology itself."
He then stressed the importance of the agency's new registration initiative, as well as UAS flying education and enforcement action against reckless behavior.
U.S. Sen. Thad Cochran, R-Miss., chairman of the Senate Appropriations Committee, raised questions on the role the federal government should play in promoting research on UAS.
"Our role is to determine the responsible level of federal support to encourage research that can be translated into polices that will support unmanned aircraft systems development," Cochran said. "I think we understand that programs like the Center of Excellence involving Mississippi State are needed to help the government, academia and industry advance unmanned aircraft systems responsibly."
ASSURE was designated by the FAA in May as a Center of Excellence (COE) to coordinate the research, development and successful integration of UAS between public, academic and private organizations.
Rogers stressed rapid progress by ASSURE in coordinating research and cooperation with the FAA, universities and industry since its designation.
"The COE allows for a confluence of voices from people who never had a chance to talk before," he explained. "We have 22 universities and over 100 industry partners, and people who were siloed before now have a convergence of interests at the Center of Excellence."
Huerta agreed: "This work is extremely important to illuminate the public policy debate and help us promulgate smart regulations in the years ahead."
Canoll highlighted ongoing efforts to safely integrate UAS, including ALPA's four-part action plan with focused efforts on education, registration, technology, and penalties and enforcement. Canoll also praised the FAA's recent decision to create a national UAS registration database and Sen. Dianne Feinstein's Consumer Drone Safety Act.
"The FAA's task force may be helpful, and ALPA is pleased to participate, but the sheer number of UAS anticipated to be sold in the near future means we need swift action," he said. "As non-commercial and recreational UAS operations appear to be the primary source of recent reports, we urge Congress to direct the FAA to regulate the UAS operated for recreation and hobby."
Huerta added, "While the FAA is showing the flexibility needed to handle this exciting new arrival to aviation, we remain committed to our No. 1 priority – a safe airspace. We do not want to stifle innovation, but we are never going to compromise on safety. Working together with all interests, we're confident we can balance safety and innovation."