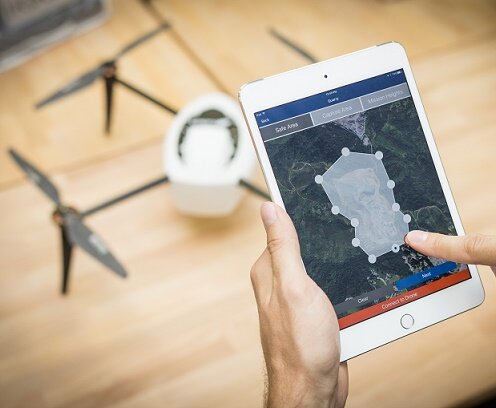 E Construction, a division of Colas Canada Inc., part of the worldwide Colas SA Group, has adopted the Kespry drone-based aerial intelligence platform for inventory management, public reporting and mine planning.
With 650 employees, E Construction, responsible for several major government contracts, is one of western Canada's largest paving contractors, says Kespry. It provides products and services throughout Alberta, Saskatchewan and the Northwest Territories.
"I really like the accuracy of the Kespry system and that it's available as a subscription service, so we get updated technology," says Chad Harrison, aggregates and environment manager at E Construction. "The technology's changing so fast. We used to spend a lot on a less accurate real-time kinematic (RTK) GPS head that's only good for four years, and then we would have to re-buy the whole thing – not to mention the time required to train and get people up to speed on how to use it properly and accurately. Kespry has cut down on my frustration during our year-end inventory process."
"Kespry has taken out a lot of the complexity and hassle of inventory management for E Construction," notes George Mathew, CEO of Kespry. "With Kespry, you simply draw out a flight plan with your finger on an iPad and our autonomous drone does the rest. It uploads data to the Kespry cloud and you rapidly get accurate, actionable data and analytics you can be totally confident in."
Kespry says it has helped E Construction make inventory management a streamlined, cyclical process that's built into its operations.
"We used to have two to three crews running around with survey gear to get inventory all done in the time frame we needed," continues Harrison. "Typically, we would need to stop operations and then do our inventory after, due to safety. Kespry allows us to do inventory when we're still doing production because we can snapshot it from above. We don't have to shut down operations to allow us to take inventory.
"If I had to guess on a cost-savings, it's probably $25,000 or $30,000 twice a year to do inventory," he adds. "It's pretty hard to compare Kespry to standard archaic GPS. To just be able to fly a drone for half an hour to pick up a quarter section of 106 acres would have taken us 10 to 14 days in the past, and they probably wouldn't have gotten everything."