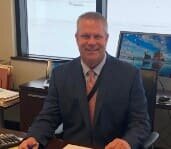 Michael "Chad" Lawrence has been appointed aviation commissioner of Griffiss International Airport in Oneida County, N.Y., home to one of the federal unmanned aircraft systems (UAS) test sites.
Lawrence, assuming the position immediately, has been deputy commissioner since 2013.
"Chad has a lifetime of experience at Griffiss International Airport," comments Anthony J. Picente Jr., Oneida County executive. "He has been at the forefront of its transformation from its original designation as the county airport to its recent development as the premiere UAS testing site in the country. Chad has the right skillset to continue the development we have seen at Griffiss International Airport and to keep it running as a key economic engine of this community."
Lawrence began his career with Oneida County in 1995 at the old county airport in Oriskany as the airport maintenance supervisor. He became the superintendent of the airport, now located at Griffiss International Airport, in 2006.
"I have seen firsthand what Griffiss has become, and I believe in County Executive Picente's vision of where Griffiss can go from here," Lawrence says. "This community, which has been my home for my entire life, has one of the most unique economic assets in the entire country at Griffiss, and I'm honored to have this opportunity. I thank County Executive Picente for the chance to grow this test site and airport."
Russell Stark, who, after four years as aviation commissioner, resigned late last month to take a similar position in his wife's hometown of Stockton, Calif.