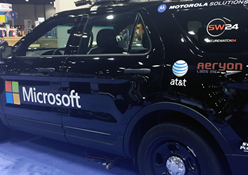 Aeryon Labs, a provider of small unmanned aircraft systems (sUAS) for military, public safety and commercial operators worldwide, has announced a technology partnership with Microsoft to include the Aeryon SkyRanger sUAS within the new Microsoft advanced patrol platform (MAPP) vehicle.
According to Aeryon, MAPP will connect first responders, surveillance teams and investigators to helpful and easy-to-navigate information – dispatch information, driving directions, suspect history, a voice-activated license-plate reader, a missing persons list, location-based crime bulletins and statistics, a feed of shift reports, and more.
Aerial imagery from the sUAS will provide real-time intelligence to assess a situation immediately, ensure safety on the ground, and capture detailed

evidence and forensics.
"Law enforcement organizations throughout the world rely on Aeryon sUAS to collect aerial intelligence wherever and whenever they need it," comments Dave Kroetsch, president and CEO of Aeryon Labs. "Including SkyRanger within the MAPP vehicle rounds out the comprehensive suite of technologies and highlights the value of aerial intelligence for ground-based personnel."