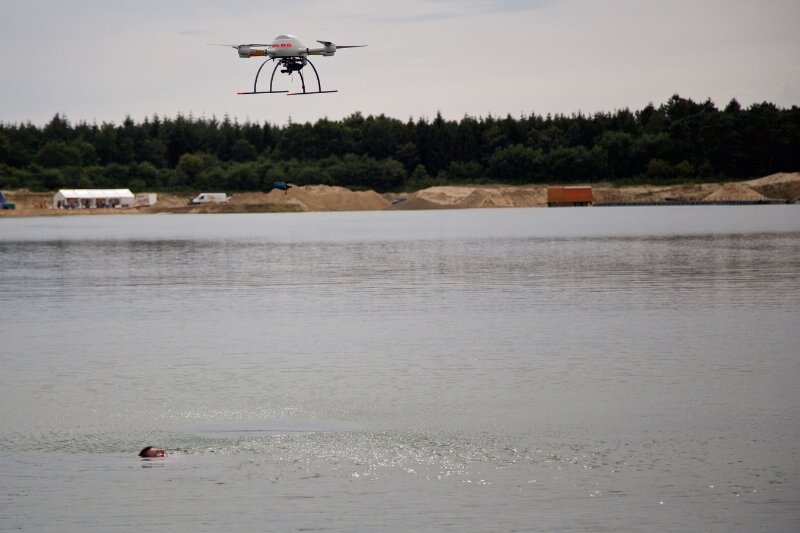 microdrones has released a video demonstrating a new water rescue tactic the company has developed by using unmanned aircraft systems (UAS).
In the video, a specially trained lifeguard spots a drowning swimmer and immediately deploys a microdrones md4-1000 UAS as another lifeguard rushes through the water to the victim's aid. The drone flies quickly over the water, reaches the swimmer far ahead of the swimming lifeguard and drops a compact flotation device that automatically inflates. The victim is then able to grab onto the device and float while waiting for the second lifeguard to arrive.
The company says it developed the tactic in collaboration with the DLRG Horneburg (a German lifeguard association) and RESTUBE, makers of compact flotation devices.
Together, the UAV company, the DLRG and RESTUBE recently simulated a mission to rescue a drowning swimmer in the Elbe River (the video of which is now released).
With the new approach to water rescue, microdrones says it is overcoming two key challenges lifeguards face: lack of time and victim panic.
According to the company, an adult is able to struggle on the surface of the water for an average of only one minute before drowning, and a child can drown in less than 30 seconds. With a drone, the lifeguard team is able to fly straight over the water to deliver a flotation device – in turn, buying the lifeguard additional time to reach the victim.
"We are so proud to be able to share this life-saving application with the world," says Sven Juerss, CEO of microdrones. "It is our hope that decision-makers at lifeguarding organizations, cruise lines and other aquatic operations will view the video and be empowered to use technology to save lives. We want to raise awareness of the vast life-saving potential of unmanned aerial vehicles."
The video can be watched here.