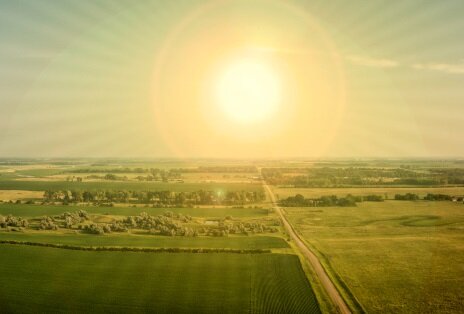 Robert Blair, vice president of agriculture for Drone as a Service company Measure, provided a deep-dive analysis of the agri-drone market to hundreds of participants at the recent Drone World Expo in San Jose, Calif.
In a presentation entitled "A Case Study: Drones in Agriculture," Blair discussed his journey as a farmer, the experiences leading him to develop applications for drone use in agriculture, and how Measure's Drone as a Service model can revolutionize agribusiness.
Highlights from Robert's presentation include as follows:
Drone Deliverables
"Here is a slide of my grandfather's soil testing kit from the 1950s. We are still trying to answer the same question he was asking then: How can we better our soils and productivity? Drones can help in providing data to answer that question."
Understanding Agriculture
"It is critical for those who want to use drones in agriculture to understand the balance between speedy acceptance and not overpromising, which could set the industry back 10-15 years. In the 1970s, due to poor communication with the agriculture community, Landsat technology missed the chance to be a powerful tool for an entire generation of farmers; in the mid 1990s, technology companies focused on sales without providing the needed technical advice and service for their products.
"New technologies often get a bad name and aren't adopted as they should be due to technology companies' poor communication, lack of agricultural understanding and desire to make a quick buck. If the drone community doesn't understand agriculture's needs and wants, that will greatly decrease adoption of drones."
Meeting Agriculture Needs
"Agriculture has the tremendous challenge and responsibility of feeding 9.5 billion people by 2050. This is no small task. It will take new technologies such as drones for farm communities to be successful, as well as the engagement of non-traditional agriculture companies."
Drone Regulations
"We desperately need agriculture represented at the table when drone regulations are developed. We lost a chance to collect agricultural information this year due to insufficient processes to gain approval for flight in restricted airspace. The last time we experienced drought conditions like we had this year was 1977. Due to unique challenges posed by biology and weather, farmers need to have better processes in place so regulations can be responsive to agriculture's needs."
According to Measure, Blair, a fourth-generation farmer from north central Idaho, has also served in industry leadership positions such as chairman of the National Association of Wheat Growers Research and Technology Committee, steering committee member for Idaho Unmanned Aircraft Systems, and advisory board member for the Drone World Expo.