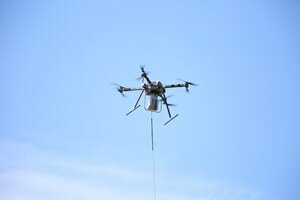 Tethered-drone manufacturer Drone Aviation Holding Corp. (DAC) and Drone as a Service company Measure UAS Inc. have partnered for sales demonstrations, commercial operations, training and support of Drone Aviation's WATT-200 tethered drone.
As part of its Drone as a Service operations, Washington, D.C.-based Measure holds a Section 333 exemption from the Federal Aviation Administration to commercially fly the WATT-200 (in addition to a multitude of other unmanned aircraft).
DAC says its WATT-200 is made to operate in urban environments and adverse weather conditions and securely provide live, broadcast-quality aerial video. A high-strength armored tether connects the aircraft to a ground power source for long flight durations and acts as a leash for additional safety. The WATT drone systems are intended for applications including newsgathering, emergency first response, search and rescue, military and border protection.
"Measure is committed to harnessing the power of innovative drone technology to provide customers with powerful turnkey solutions, and the capabilities of the WATT-200 will help us to continue delivering on our promise," comments Brandon Torres Declet, CEO and co-founder of Measure.
Jay Nussbaum, chairman of Drone Aviation, adds, "Our team is looking forward to jointly supporting live customer events utilizing our WATT-200 and to begin sales demonstrations of our tethered drone technology to our growing pipeline of potential new customers."