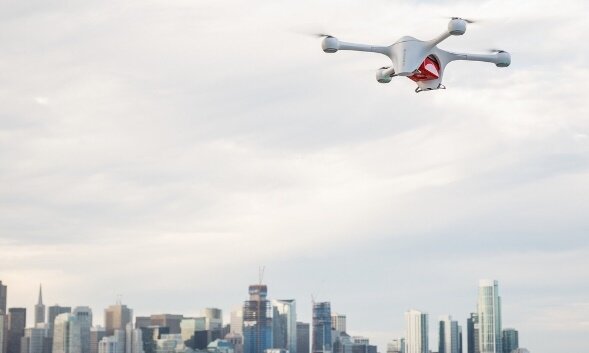 Matternet, a developer of autonomous drone logistics systems, has announced a strategic partnership with Mercedes-Benz Vans, which has made a multimillion-dollar investment in the company. In addition, Matternet has unveiled its second-generation drone, Matternet M2.
Through the partnership, Matternet and Mercedes-Benz have joined forces to create an integrated delivery solution that will transform how people receive lightweight goods on demand, the companies explain.
Mercedes-Benz Vans has also rolled out its Vision Van, which showcases an end-to-end platform for last-mile delivery. It features a fully automated cargo-management system and Matternet delivery drones. Matternet says it developed the technology that is integrated into the roof of the van – allowing for precision landing and automatic payload and battery exchange.
In addition, Matternet's cloud technology is integrated with Mercedes-Benz's van routing software, allowing end-to-end control of the supply chain. The first project bringing this vision into reality is "Vans and Drones." (A video can be found here.)
"With our Vision Van, we are going beyond the vehicle," explains Volker Mornhinweg, head of Mercedes-Benz Vans. "We have been working closely with Matternet to create the world's first fully connected and automated cargo van with integrated delivery drones."
Matternet says its drone system is designed to enable flights over urban, populated areas. The aircraft is equipped with a redundant flight-termination system that can deploy a parachute automatically when needed and uses intelligent software to ensure that the vehicle never diverges by more than 5 meters (16.4 feet) from its pre-authorized path. Flight paths are automatically generated in approved airspace by Matternet's cloud system using terrain, airspace and population-density models.
The new Matternet M2 drone, which is completely autonomous, can transport up to 2 kilograms (4.4 pounds) and travel up to 20 kilometers (12 miles) on a single battery charge, according to the company. Additionally, it can drop and reload a payload and battery without human interaction and features a smart payload box that can transmit data about its contents and destination.
Speaking on the partnership with Mercedes-Benz, Andreas Raptopoulos, co-founder and CEO of Matternet, notes, "We are driven by a common vision to automate last-mile logistics, which today is the least efficient and most expensive part of logistics. Through this partnership, we are building solutions that will dramatically reduce the time and cost of on-demand delivery."