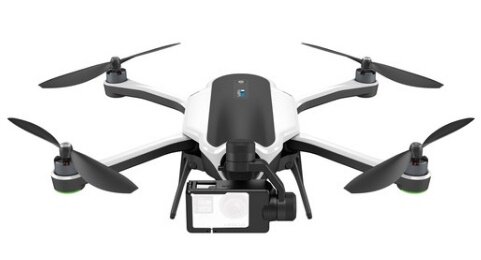 Calling the unmanned aerial market "untenable" for the company, GoPro Inc. is officially saying good-bye to its Karma drone.
In a press release announcing its fourth-quarter results, GoPro expects revenue to be approximately $340 million for the quarter ended Dec. 31, 2017. The revenue includes a negative impact of approximately $80 million for price protection on HERO6 Black, HERO5 Black and HERO5 Session cameras, as well as the Karma drone.
According to GoPro, even though Karma "reached the No. 2 market position in its price band in 2017," the unmanned aircraft system (UAS) is facing "margin challenges in an extremely competitive aerial market."
"Furthermore, a hostile regulatory environment in Europe and the United States will likely reduce the total addressable market in the years ahead," the company explains. "These factors make the aerial market untenable, and GoPro will exit the market after selling its remaining Karma inventory. GoPro will continue to provide service and support to Karma customers."
Additionally, the company is reducing its global workforce from 1,254 (as of Sept. 30, 2017) to fewer than 1,000 worldwide. Furthermore, Nicholas Woodman, founder and CEO of the company, will reduce his cash compensation to $1 in 2018.
Launched in September 2016, the Karma quadcopter retailed for $799.99 or $1,099.99 when bundled with GoPro's HERO5 Black camera. A key feature of the aircraft was its compactness, allowing it to be folded into a backpack; however, the company faced competition from DJI, which introduced its foldable Mavic Pro quadcopter around the same time.
In November 2016, GoPro had to withdraw all of its long-anticipated Karma drones due to what it called a "small number of instances of power loss due to a mechanical issue related to securing the drone's battery." The company, citing a problem with a latch mechanism that secured the drone's battery, put the UAS back on the market at the beginning of 2017 after fixing the problem.
"GoPro is committed to turning our business around in 2018," says Woodman. "We entered the new year with strong sell-through and are excited with our hardware and software roadmap. We expect that going forward, our roadmap, coupled with a lower operating expense model, will enable GoPro to return to profitability and growth in the second half of 2018."