Providing what the company calls a present and future glimpse of promising new technologies for the oil and gas industry, General Electric (GE) today held the grand opening of its new Oil & Gas Technology Center in Oklahoma City, where the company revealed a peek at its smart-sensing drone prototype to detect emissions at oilfields.

At the opening ceremony, GE unveiled the prototype "Raven" drone, which has been engineered to detect emissions precisely and cost-effectively in order to help customers reduce environmental impact and improve operational efficiency in the oil and gas industry, according to the company.
GE says Southwestern Energy Co. successfully piloted the technology to detect emissions from oilfield equipment at well sites in Arkansas in July.
In a video describing the new drone, John Westerheide, technology leader for the Oil & Gas Technology Center, says, "The goal of Raven is to help our customers inspect their upstream assets in a faster, better way."
Ashraf El-Messidi, energy systems engineer at the new center, adds that the drone was designed to be used with a mobile app, where a user can draw a flight path "with the swipe of a finger" so that the aircraft can autonomously follow waypoints and conduct an inspection.
Westerheide adds, "The benefit of programmable flight path capability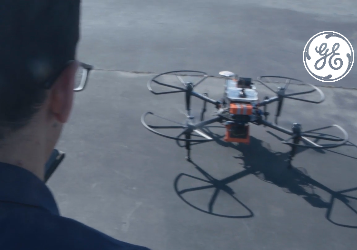 allows us to enable anyone, regardless of background, to use advanced technology."
The new center will become a central hub for GE scientists and engineers to closely collaborate with the oil and gas industry on digital and hardware solutions to advance the industry, the company says. The new building is five stories high and features 125,000 square feet of lab and office space.
"We believe a strong commitment to R&D will help our oil and gas customers find new efficiencies to work through tough market conditions and lead to transformational opportunities for the industry to thrive long term," says Lorenzo Simonelli, president and CEO of GE Oil & Gas. "The new technology center in Oklahoma City will accelerate innovation; it's where we can bring the full power of digital solutions and technology from across GE's industrial businesses to advance the oil & gas industry."