Third UAS Test Site Officially Up and Running
in Content > Policy and Regulations

The Federal Aviation Administration
(FAA) has revealed that Nevada has become the third of six congressionally mandated unmanned aerial systems (UAS) test sites to become operational.
The FAA has granted the state of Nevada team a two-year certificate of waiver or authorization (COA) to use an Insitu ScanEagle at the private Desert Rock Airport, located in Mercury and owned and operated by the Department of Energy. 
The ScanEagle will fly at or below 3,000 feet and will be monitored by a visual observer and mission commander. Initial flights will verify that a UAS can operate safely at the airport.
The agency says Nevada's research will concentrate on UAS standards and operations, as well as operator standards and certification requirements. The site's activities also will include a concentrated look at how air traffic control procedures will evolve with the introduction of UAS into the civil environment and how these aircraft will integrate with NextGen, the modernization of the national airspace system.
The FAA says it selected the six congressionally mandated test sites on Dec. 30, 2013, to guide their research programs to help the agency safely integrate UAS into the national airspace over the next several years.
The
Alaska
and
North Dakota
UAS test sites became operational in May and April, respectively.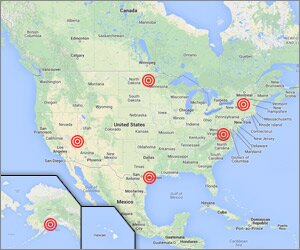 After the Los Angeles Kings recently won the NHL Stanley Cup Championship, congregating fans took their celebrations to a more destructive level by taking [...]
Read More
Although the Brazilian World Cup has just kicked off, controversy has already come about as a drone has reportedly been used to spy on [...]
Read More
Swiss mini-drone manufacturer senseFly has launched the eBee RTK unmanned aerial vehicle (UAV), which the company says is the only fully integrated, fully compatible, [...]
Read More