How Will The FAA Respond To Drone-Captured Tornado Footage?
in Content > UAVs

A camera-equipped unmanned aerial vehicle (UAV) was used to capture the aftermath of a deadly tornado in Arkansas, and it is unclear how the Federal Aviation Administration (FAA) will respond.
After a tornado devastated the city of Mayflower on April 27, storm chaser and videographer Brian Emfinger deployed a UAV to survey the damage, according to an article written for
Forbes
by Greg McNeal. Because the aircraft was up and flying just moments after the winds subsided, McNeal questions the FAA's prohibition of drone journalism.
McNeal writes that the imagery obtained by Emfinger is evidence of both the storm's power and value of employing UAVs to gather news, especially in regards to disasters. He argues that the ability to quickly deploy drones makes them an "ideal platform" for first responders. Information can be swiftly collected, and search-and-response operations would not be hindered by debris.
Texas EquuSearch has already
sued the FAA
for the right to use UAVs in missing-person searches. McNeal now wonders if the federal agency will take action against Emfinger for his unauthorized UAV flight.
He notes that the FAA has specifically asserted that journalism is a commercial venture, and thus, Emfinger's activities would be subject to the agency's commercial drone ban. In the past, the
FAA has targeted
journalists and university courses that involve UAVs.
McNeal ultimately contends that drone journalism has "clear First Amendment value" in that it can benefit the public.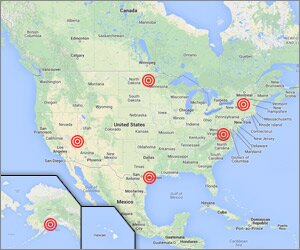 College students enrolled in a course to learn how to fly unmanned aerial vehicles (UAVs) have been told to stay indoors. Although the University [...]
Read More
Canadian officials are investigating incidents in which an unmanned aerial vehicle (UAV) flew near Vancouver International Airport and over Vancouver Harbour, which hosts commercial [...]
Read More
The U.S. Department of Justice's National Institute of Justice (NIJ) has issued a request for proposals to develop, host and maintain an online flight [...]
Read More