DroneDeploy Announces New App, $9M Funding and Partnership
in Content > UAV Equipment and Systems

DroneDeploy
, a San Francisco-based start-up that provides cloud-based software solutions for commercial drone operations, has raised Series A funding, launched a new mobile app and formed a partnership with
DJI
.
The $9 million in Series A funding was led by San Mateo, Calif.-based Emergence Capital, with participation from previous investors SoftTech, DataCollective and Angelpad. The investment adds to the $2 million in seed funding the company
received
in September 2014.
DroneDeploy plans to use the funds to adapt its software to more drone platforms and launch products in several industries, such as agriculture, construction, mining and real estate.
As part of the transaction, Kevin Spain, general partner with Emergence Capital, will join DroneDeploy's board, which also includes Jeff Clavier from SoftTech. "DroneDeploy's software solutions are unique in their ease-of-use, speed with which they generate data, and ability to leverage the cloud to instantly deliver critical information to users' smartphones and tablets," comments Spain.  
DroneDeploy says its new mobile app provides users with the fastest, easiest push-button solution available to automate drones and receive real-time, reliable, detailed aerial maps and images.
Through a new partnership with drone manufacturer DJI, DroneDeploy's software is now offered on the DJI Phantom 2 Vision - making it available to a wider range of end users in
agriculture
, real estate, mining, construction, and other commercial and consumer industries.
Using the DroneDeploy application, farmers and agronomists can quickly assess and diagnose crop health, detect field variations, categorize yield zones and analyze normalized difference vegetation index outputs for smarter farming decisions. Construction and mining operators can generate high-resolution 3D or digital elevation models of sites and structures and analyze plan progress to eliminate inconsistencies.
"The introduction of our mobile application marks a first in the adoption of drones for commercial use. DroneDeploy makes it possible for users without any training to access and employ drone-based aerial imagery and mapping," says Mike Winn, company co-founder and CEO.
"It provides users with anywhere, anytime access to a bird's-eye view of land or work zones and delivers detailed information directly to mobile devices before drones even land - all capabilities that simply weren't available until now."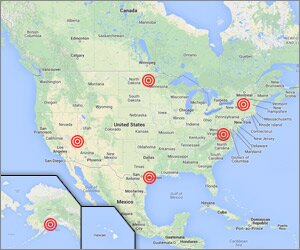 Two years after Calgary and southern parts of Alberta were rocked by record-setting floods, researchers at the University of Calgary and the University of [...]
Read More
Chicago-based Antonelli Law has launched "Drone Democracy" - what the law firm says is a lower-fee Section 333 service to help potential operators of [...]
Read More
Dubbing it "the world's first Internet-connected drone that serves as your personal courier," Tel Aviv, Israel-based Flytrex is promising an unmanned aerial vehicle (UAV) [...]
Read More