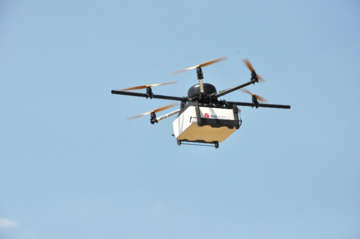 DPDgroup – the commercial brand of GeoPost, the holding company of the French Groupe La Poste – is pursuing its project for delivering parcels by drones, including the development of a delivery terminal.
DPDgroup says it has been testing drone deliveries since June 2014. The company has flown a drone 1,200 meters (almost 4,000 feet) to deliver a 3 kg parcel and has also tested the aircraft in severely cold weather.
The delivery terminal, developed alongside project partner Atechsys, features as follows:
A structure protecting access to the drone during landing and take-off phases;
An automated carriage system for transporting the parcel; and
An electronic system devoted to the safety of handling operations around the drone.
According to DPDGroup, such technology will provide a means of expanding logistics networks by overcoming major obstacles, including the safety of the operators and other people; the protection and security of the parcel and the equipment; infrastructure issues, including the inadequacy of road networks and, for example island or mountain areas; and weather conditions, including areas that are flooded or blocked by snow.
DPDgroup, the second-largest international parcel-delivery network in Europe, delivers 3 million parcels to over 230 countries each day through its four brands: DPD, Chronopost, SEUR and Interlink Express.