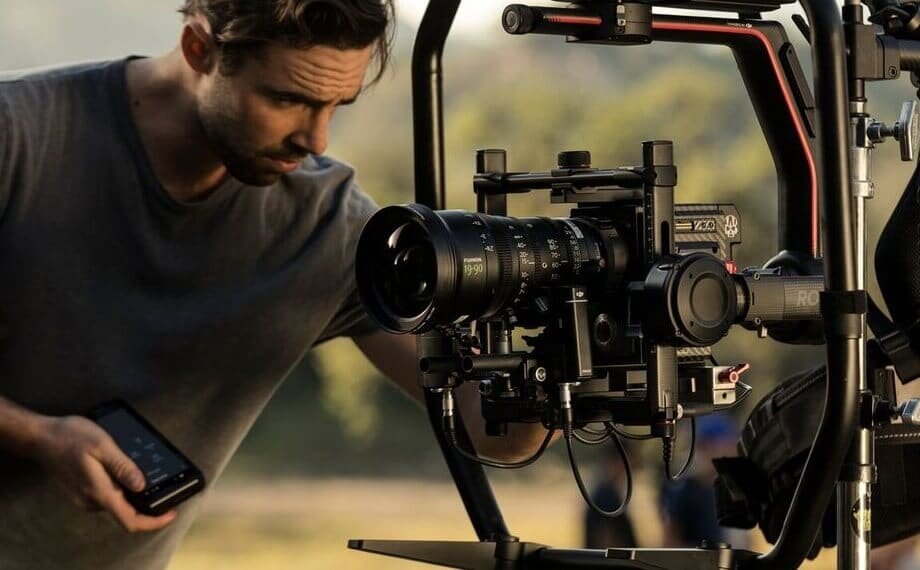 DJI has been announcing a number of products and services this week, including the Cendence remote controller, Tracktenna high-gain antenna, CrystalSky monitor, DJI Circle and Ronin 2 gimbal system, as well as the specifications of its DJI Goggles.
The new Cendence remote controller is a multi-platform controller that allows users to program and store customized button configurations for different flight and shooting options. Using two dials, they can adjust the pitch and yaw of the gimbal at the same time. With Cendence, pilots have instant access to functions such as ISO, sharpness, shutter speed and focus. It also features built-in SDI and HDMI video transmission ports for live HD broadcast and streaming applications and can be easily adapted with DJI's Lightbridge or WiFi

video transmission technology.
The controller mounts smartphones, tablets and DJI's high-brightness CrystalSky monitors, and it also features a smaller, secondary screen to display critical telemetry data. DJI notes that it also features a battery life of up to four hours. Cendence, compatible with DJI's Matrice 200 and Inspire 2 drones, will be available later this year at $999.
DJI Tracktenna improves signal reliability over long distances and resisting interference. Its built-in sensors and two-axis gimbal automatically point the antenna to the aircraft at all times – bolstering the connection even while the operator is in motion or on a vehicle, according to DJI.
When installed on the new Cendence controller in optimal conditions, DJI Tracktenna can boost signal transmission to over 6.2 miles. In addition, it supports transmission speeds of up to 10 Mbps within 1.24 miles for data-intensive applications. The Tracktenna supports both 2.4 GHz and 5.8 GHz frequency bands to give it greater signal stability. Pricing and availability for DJI Tracktenna will be announced at a later date, says DJI.

Next, the CrystalSky family of dedicated monitors offers a brighter and more reliable display screen than is available on smartphones and tablets, according to the company. The CrystalSky series features displays up to 2000 cd/m2, which is four times brighter than a typical smartphone or tablet.
CrystalSky monitors, available in 5.5-inch and 7.85-inch sizes, attach directly to the new Cendence controller and use a new dedicated mounting bracket to attach to other DJI controllers. They are designed to operate in temperature ranges from -4 to 104 degrees F and can operate for up to six hours (in ideal conditions) using a secondary external battery, says DJI.

CrystalSky runs optimized versions of the DJI GO, DJI GO 4 and DJI Pilot apps and includes two microSD card slots for rapid storage and playback of encoded 4K video. CrystalSky will be available soon in three configurations: a 5.5-inch, 1000 cd/m2 version for $469; a 7.85-inch, 1000 cd/m2 version for $699; and a 7.85-inch, 2000 cd/m2 version for $999.
The new DJI Circle delivers a customer support program offering broad coverage over a 12-month period for up to five DJI products, including the Inspire, M600, Mavic Pro and Phantom drone series, as well as the Ronin and Osmo series of handheld stabilizers.
According to the company, DJI Circle benefits include a battery rental service; a device repair and backup service; global emergency services; exclusive member benefits, such as access to DJI events; and airport lounge access. Starting at $4,699, DJI Circle will first be available starting in May by invitation only to customers in the U.S. and mainland China.
DJI's Ronin 2 is a redesigned, three-axis, stabilized gimbal system that has more power and torque to carry larger cameras and offers more intelligent features.
An enlarged camera cage and 50-millimeter extendable arms support everything from DSLRs to full cinematic cameras and lenses, and powerful gimbal motors ensure sufficient torque to handle payloads up to 30 pounds. Aided by onboard GPS, the motors let Ronin 2 travel at speeds of up to 75 mph while delivering 0.02 degrees of sub-pixel-level precision, says DJI.

With a new design and detachable grip, Ronin 2 brings custom stabilization to a broad range of camera mounts. In addition, a new two-axis operation mode offers mounting for Steadicams. A redesigned dual band 2.4/5.8 GHz remote allows minimized interference for full control during remote and two-person operation at a range of nearly one mile.
Further, new axis-locking levers and fine-tuning knobs deliver faster and more precise balancing, while the Auto Tune Stability feature adjusts motor parameters. A new integrated touch screen with 1,000 nits of brightness lets professionals directly configure the gimbal settings for on-the-fly adjustments and for full control of mounted RED cameras.
The Ronin 2 also features a redesigned carbon fiber monocoque style frame; fold-away feet; and a splashproof, enclosed motor design with internally routed power, SDI and data cabling.
DJI adds that a completely updated DJI gimbal assistant mobile app includes studio-oriented functions to easily capture complicated camera moves that once required specialized expertise or additional equipment.
Intelligent features include a panorama mode that automatically controls Ronin 2 to create still image panoramas that account for the camera sensor type and lens focal length, as well as the user-defined overlap rate; a Timelapse mode to program multiple movements and camera actions at different points along a route and view progress in real time; and a CamAnchor mode to let operators quickly record a preferred gimbal orientation at particular locations and then revisit them with a simple touch as the camera moves from point to point.
Ronin 2 will be available in the second quarter of this year from dji.com, DJI flagship stores, DJI authorized retail stores and DJI resellers worldwide. Pricing will be announced prior to availability.
Lastly, DJI has announced the features and specifications for its first-person-view DJI Goggles, which use a beam splitter to display an image in front of each eye, as well as polarization to prevent any image overlap. This creates full HD 1920×1080 resolution per screen, providing more than twice the number of pixels of a typical 2K display. Wearing the DJI Goggles is like looking at a 216-inch home cinema screen placed about three meters away, explains DJI.

Through DJI's OcuSync wireless transmission system, up to two pairs of DJI Goggles can be connected to a single Mavic Pro drone. The goggles integrate a touchpad to navigate the internal menu system for accessing intelligent flight features such as ActiveTrack, TapFly, Terrain Follow, Cinematic Mode, Fixed Wing Mode and Tripod Mode.
Additionally, Head Tracking allows operators using a Mavic Pro or Phantom 4 series aircraft to use head movements to control both aircraft yaw and camera tilt. Another option is using DJI Goggles to control the gimbal exclusively while the aircraft operator maintains control of the aircraft with the master controller.
DJI Goggles can sync with the Mavic Pro via DJI's OcuSync transmission system, while the Phantom 4, Phantom 4 Advanced, Phantom 4 Pro and Inspire 2 drones can connect via the controller's USB port. An onboard micro SD card allows operators to download files from the aircraft to the goggles or review video files on the spot. Additionally, the HDMI input allows DJI Goggles to connect to a video device for watching films and playing video games.
On a full charge, DJI Goggles are fully operational for a maximum of six hours. Priced at $449, DJI Goggles will start shipping after May 20.
Also this week, DJI introduced a joint product with Hasselblad: a combination of the DJI M600 Pro drone, the Ronin-MX gimbal and the Hasselblad H6D-100c camera. In addition, DJI announced the first data solution from its strategic partnership with Seagate – the Seagate DJI Fly Drive for drone video and photo management.