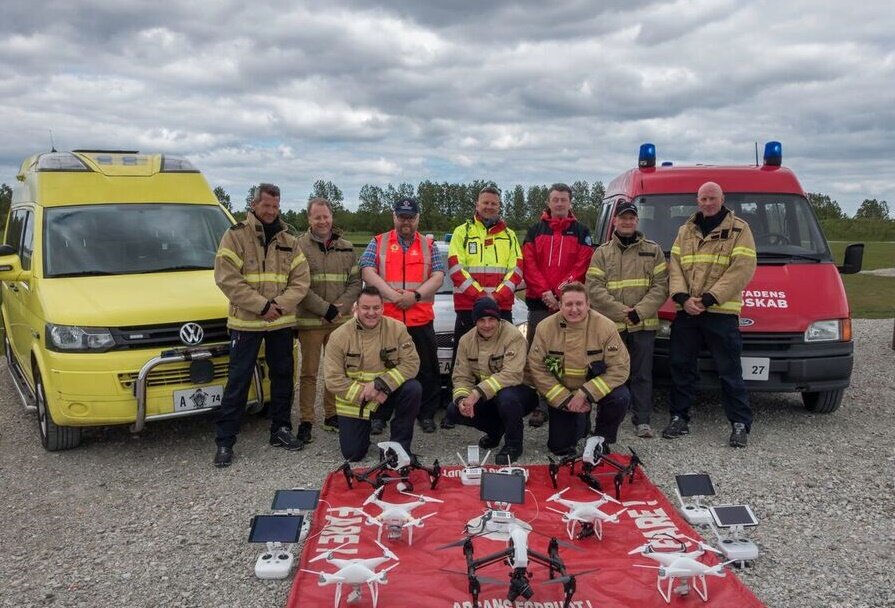 In partnership with the European Emergency Number Association (EENA), DJI has released a white paper sharing insights and best practices for the safe integration of unmanned aircraft systems (UAS) in emergency situations.
The white paper stems from a yearlong project with the emergency-response community in Europe, says DJI.
"Our main goal of this project was to get a more detailed understanding of the needs of first responders and how off-the-shelf platforms can meet those needs," explains Romeo Durscher, director of education for DJI. "What we have realized is that a drone has evolved from being a flying device to a data-collection device. Through that, it has become a decision-making tool, with applications beyond just locating a missing person or getting a simple bird's-eye view. This knowledge allows DJI to continue building more capable hardware and software platforms."
The white paper outlines recommendations in five areas:
Integration of UAS in Standard Operating Procedure
Key recommendations include having a minimum of two people using the UAS, with one person controlling the unit and one person searching the video feed for information that can be used for decision-making. Sharing data over an encrypted channel is a top priority, and several third-party solutions were examined over the course of the project.
Training teams on the use of UAS
While the UAS team needs to get in-depth training on how to operate the technology, the broader team, including responsible authorities and team members, needs to understand how UAS fit into the operation. The UAS team also needs to have a clear role and reporting structure within the bigger mission.
Hardware needs and maintenance
When considering hardware, teams need to make sure the platforms are reliable and have redundant systems, powerful data transmission links and integrated software-development-kit functionalities. Further, the first-responder community articulated the need for weatherproof systems, more powerful lift capability, payload drop capacity and flashlights for night flying.
Logistics
Basic recommendations include always inspecting the units for damage and making sure they are updated with latest firmware. Other key questions to address include where the units should be stored, how they are best transported to an incident site, where they should be deployed and how battery management is best structured.
External Framework
As with any new technology, educating regulators and the public is important to build trust for the technology and to ensure a legislative framework that is open for drone use. Developing an industry standard for first-responder UAS to use blue lights is widely supported by the community.
"The project has been a real window into how [remotely piloted aircraft systems] are being used and may be used during emergency responses," says Tony O'Brien of EENA. "We have seen that the pace of technological advancements will continue as the platforms become more intelligent, more resilient, more innovative and more impactful."
Four first-responder teams participated as partners in the research project between May and October of this year: Mid and West Wales Fire and Rescue Service (U.K.), Donegal Mountain Rescue (Ireland), Greater Copenhagen Fire Department (Denmark), and Reykjavik SAR Team (Iceland).
The white paper can be downloaded here.