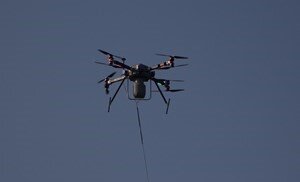 Drone Aviation Holding Corp. (DAC), a manufacturer of tethered drones and aerostats, says it has completed a Federal Aviation Administration (FAA)-approved nighttime test of its WATT-300 tethered drone.
The flight was conducted in collaboration with the Mid-Atlantic Aviation Partnership at Virginia Tech (VTMAAP), home to one of the six FAA test sites, and Aviation Systems Engineering Company Inc. (ASEC).
Last summer, DAC and VTMAAP announced a partnership in which they would test and advance the commercialization of the company's tethered drones.
The test was designed to evaluate the use of a tethered drone and advanced optical systems to provide persistent monitoring and security of large venues and facilities at night.
The WATT-300 tethered drone was flown with a gimbaled, dual electro-optical/infrared camera. During the flights, conducted at two locations, the WATT was operated to an altitude of 150 feet by an ASEC pilot under the supervision of VTMAAP personnel.
Due to its tether and self-contained ground control station, the independent camera operator had complete control over the dual electro-optical infrared camera system; it switched between the stabilized, high-zoom optics and the infrared camera after sunset, explains DAC.
According to DAC, WATT is suited for a number of applications – newsgathering or industrial and emergency-response applications – where manned aircraft or free-flying drones are unable to deliver a long flight duration and real-time video monitoring at night or during the day.
Jay Nussbaum, chairman of DAC, notes, "We look forward to the opportunity to continue to work with industry partners to assist them in exploring how our tethered drones can be successfully integrated into their programs."