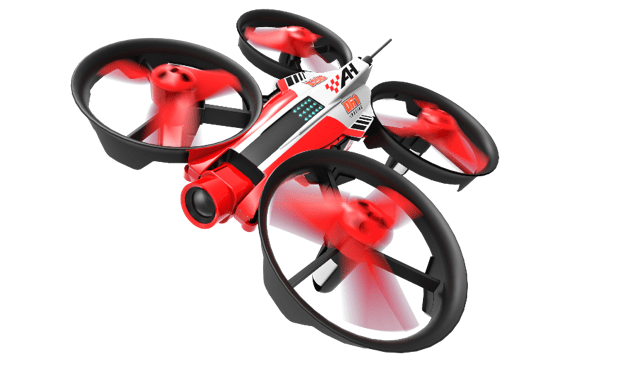 DR1 Racing and Air Hogs have partnered to create a first-person-view (FPV) toy racing drone for $99.99.
The Air Hogs Official DR1 Race Drone, suited for ages 12 and up, will hit shelves this fall, according to the companies, which add that the partnership will increase the ease of entry for consumers to get involved in drone racing.
"We're thrilled to be partnering with Spin Master to announce the first-ever FPV drone for kids," says Brad Foxhoven, founder and CEO of DR1 Racing. "We're seeing more and more kids turn to drone racing alongside e-sports and traditional sports, and for the first time ever, young fans will be able to emulate the incredible pilots they see in DR1 Racing. This cutting-edge toy is a gateway that will vastly increase participation and move the sport of drone racing forward in a new way."
Air Hogs is a brand of Spin Master Ltd., a children's entertainment company that makes toys, games and other products for kids.
"We're very excited to team with the leader in drone racing, DR1, on the launch of the Air Hogs Official DR1 Race Drone," says Conor Forkan, vice president of marketing and product development for the RC global business unit of ‎Spin Master. "This is a ground-breaking product that will give fans everywhere cost-affordable access to the world of FPV drone racing."