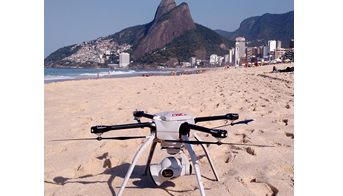 Aeryon Labs Inc. – a Waterloo, Ontario-based provider of small unmanned aircraft systems (sUAS) for military, public safety and commercial applications – has announced the successful deployment of Aeryon sUAS solutions during this summer's Olympics in Rio.
Operated by the Brazilian Federal Police Tactical Operations Command (COT), the Aeryon SkyRanger drones were used to acquire high-resolution aerial imagery at local event sites from vantage points that could not be accessed by manned aircraft, explains Aeryon.
All video and telemetry captured by the Aeryon SkyRanger was also securely distributed to stakeholders in the Central Command Centre, from where all event security activities were coordinated. The real-time situational awareness provided by the Aeryon solution enabled effective mission planning and the appropriate allocation of on-the-ground resources, the company says.
Aeryon's turnkey solution includes a rugged sUAS for all-weather and day and nighttime operations; a software-based flight control platform enabling autonomous flights; AeryonLive, which delivers video and telemetry securely to all mission participants with less than 10 seconds of latency, even in congested network environments; and on-site training, including assessment of the operating environment, regulatory support, and network configuration and testing.
"Aeryon continues to make significant investments in sUAS capabilities to serve the public safety market," says Dave Kroetsch, president and CEO of Aeryon. "We are proud to have partnered with the Brazilian authorities to help ensure a safe and successful Summer Games."
"Aeryon was the only UAS provider to present us a complete solution which satisfied not only our requirements, but those of the local aviation authorities," adds the coordinator of the COT. "The Aeryon solution delivered actionable visual information in a variety of scenarios and has become an indispensable asset for high-profile missions such as this."